Record breaking January 2019
After the marginal +1% growth rate for all of 2018, the core specialty surf and skate retailers started 2019 with a record +11% growth in January 2019 compared to January 2018. As the below chart indicates the average $ sales per door in January 19 was by far the highest it has ever been in January going all the back to 2007, the inception year of our ActionWatch panel.
Almost all broad categories experienced positive sales growth and women's apparel sales were especially robust with +20% YoY growth compared to last January. Just about all Apparel categories experienced positive growth, led by jackets, L/S t-shirts and pants, which may be a result of the relatively cold January weather.

Sweaters and jackets maintained their long-term upward trend while fleece/hoodies bounced back from mid-single digit growth rates in November and December. The results in most of the accessories categories were also robust with strong growth rates in belts, jewelry and sports watches while only casual watches and sunglasses struggled.
The strength in many of the surf hardgoods categories was also very encouraging even though long boards and SUPs continued their decline. Similarly, after 3 challenging quarters for skate hardgoods it was refreshing to see growth across every single skate hardware category in January of 2019.
And then February happened.
Poor weather = poor sales in February 2019
The challenging weather conditions, especially on the west coast, cooled February sales down considerably. Not surprisingly, the categories that weighed the growth down the most were hardgoods (both surf & skate) as well as wetsuits. With all the rain no one was out surfing or skating. And not many were out shopping either.
No foot traffic, no unit sales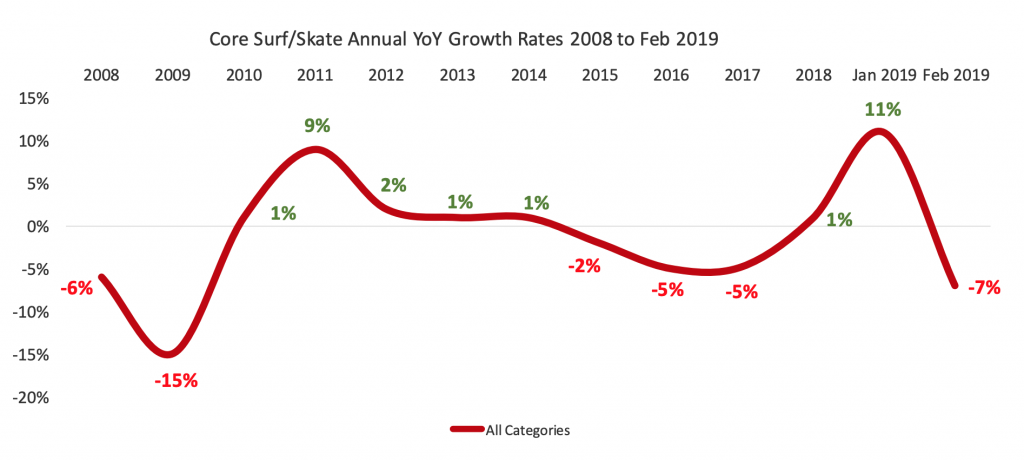 So after a very promising January we were brought back to earth with a sobering February. Fortunately, February represents one of the smaller revenue months of the year and the primary factor responsible for the February sales decline were lower unit sales in California. Overall, average prices, average margins and average turn rates all went up by 1% point compared to last February so the sales decline was almost exclusively due to reduced unit sales (-8%). In California alone unit sales were down -18% while they were only down -1% in the rest of the country. On average, at the end of February each door held increased inventory to the tune of +3% points compared to last February so as foot traffic picks back up again with more favorable weather conditions and plenty of inventory we should see a return back to growth in March.
This gives us hope that we will still have a decent first quarter of 2019.