Sales rebound in March 2019
After the roller coaster start with double-digit growth in January and the weather induced -7% decline in February the ActionWatch panel grew +1% in March 2019 compared to March 2018. It was not as much of a rebound as we would have liked, but the good news is that despite a miserable February we stayed in positive growth territory for the first quarter.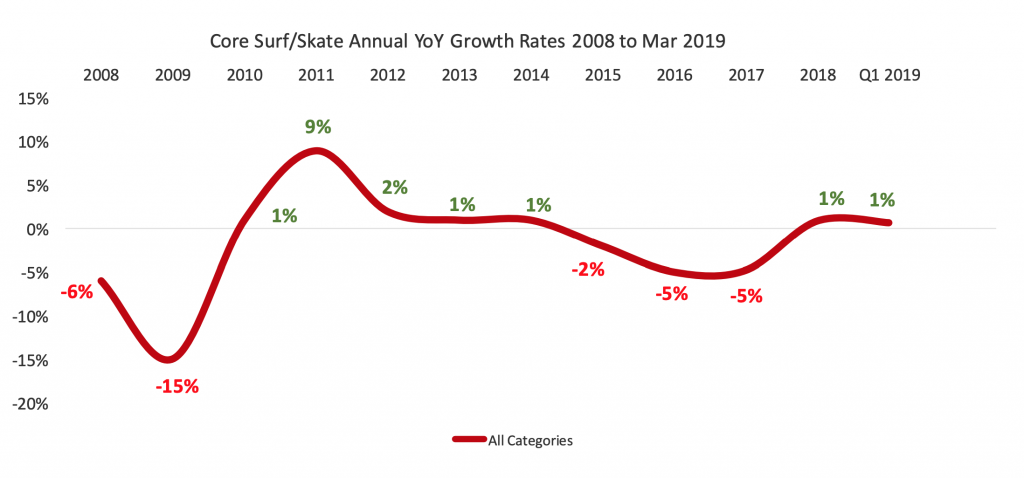 Women drove March rebound
The female segment returned to positive territory with +2% growth while the male segment declined by -1%. There were some notable differences by geographic region, with the Northeast (+12%), the South (+4%), and the Midwest (+1%) leading the charge, while the Northwest and the Southwest both declined by -3%. All broad categories were flat with the exception of apparel (+1%) and wetsuits, which declined by -8%.
Surf hardgoods on fire
No pun intended, but the hardgoods categories were hit especially hard in February. However, it was encouraging to see quite a few bright spots in March, including surfboard bags (+45%), softboards (+33%), surfboard Leashes (+29%), traction Pads (+21%) and short boards (+16%). Skimboard and bodyboard hardgoods grew as well with +24% and +14%, respectively, while long decks (+31%), long Completes (+3%), trucks (+3%) and motorized skateboards represented the skate hardgoods categories that grew.
Better weather = more store traffic = higher unit sales
Average unit sales increased slightly by +1% thanks to higher turn rates, which increased by 2 points from 21% to 23%. Average prices and average margins were flat compared to last March, which resulted in +1% Average $ sales growth. California bounced back from -18% February declines with +3% growth in March, with positive growth across all the major categories. On average, at the end of March each door had 2% less inventory compared to last March but there is still plenty of on-hand inventory in the stores, which leads us to believe that as foot traffic picks back up again with more favorable weather conditions we should see a return to more significant growth in the second quarter.
Three consecutive growth quarters
For the first time since 2011 this marked the third consecutive quarter we experienced positive growth compared to the previous year. Given the soft comps from Q2 2018 we can be optimistic that we will have a fourth consecutive quarter of growth for the ActionWatch panel.